"I LOVE hearing from my FANS- Thank you so much!" — Ilyana Kadushin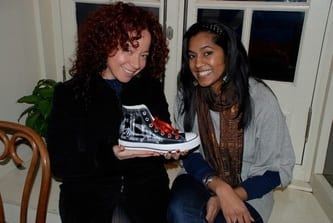 "Ilyana is what makes the books come alive."
-Review from Audible.com
"Narrator, Ilyana Kadushin sounds youthful and impassioned and her performance shows that an actor need not distract with an array of vocal personae as long as she can express the author's intent."
-Review from Audiobookcafe.com
Hi Ilyana!
I just finished listening to the Twilight Saga audio book. I just fell in love with your voice… You gave life to each of those characters and made me feel every word in the book. I do consider myself to have great imagination but what your voice did to my experience of the book was just out of this world!
Fan from India
"The real strength behind these audio books is Ilyana, she does a spectacular job. She portrays characters with far more depth, feeling, range and passion than most people could extract from these pages in a lifetime. Her storytelling is magnificently captivating with her gift for portraying a variety of characters. she is a pleasure to listen to".
-Twilight Series review
" I have been listening to other audio books and do you realize you have ruined me? No one measures up to your level!"
-Twilight Fan from Toronto, Canada
"I just wanted to let you know, I listened to Twilight Audio books because you were reading them and now I can;t stop listening to the books performed by you.You bring characters to life and listening to books more enjoyable"
. – Audiobook Fan
"I downloaded the twilight series for my drive from LA to Sf. and you did such a great job!
You're my audiobook idol. the story is good too".
-Fan from San Francisco
"Hi Ilyana, just wanted to tell you that your voice is like magic, I have enjoyed so much listening the Twilight saga books. U are really amazing and added so many different flavors in the already very successful books. Really looking forward to your next audio books."-
Fan from China.a
"Just wanted to tell you that I love listening to you do the voice overs on the Twilight saga audio books. Your voice has such a calming effect and I find myself listening for hours at a time, totally swept away. You are indeed a master at your craft. Looking forward to hearing more".
Dear Ms Kadushin,
Your voice shot up to the top of my list right after the first sentences of listening to Twilight! Your voice and your performance stands out in so many ways! After I listened to Stephenie Meyer's Twilight -Saga with your compelling performance I hunted the net for more audiobooks read by you. You are so gifted that it is chilling, when I listen to stories via your voice I feel so touched-moved-entertained I really can't find words to describe it.
-Fan from Germany
"Hi! I listened to your audiobooks, the four episodes of the Twilight Saga, and really enjoyed them so much that now that I finish I feel kind of lost!
I wanted to congratulate you for the great recordings, beautiful voice and vivid interpretation. It was like looking at my own personal movie of the books! The text has gained a lot, in my opinion it is not as much fun to read as to listen to from you.
Probably many people has told you this already but I am so impressed that I wanted to let you know anyway. Maybe you can recommend the next of your audiobooks that I should purchase, since now I truly miss your reading in my life!!
I hope that your career as a reader is fruitful, also for my own benefit!
Nice to (virtually) meet you,"
Twilight fan from Madrid, Spain
"Readers will thrill to Ilyana Kadushin's elegant reading of "New Moon"…her performance captures the emotional upheaval of mortal Bella's desperate love for Vampire Edward and the obstacles to their perilous reunion. Kadushin's silvery feminine voice delivers the unfolding events with precise, consistent timing that showcases Meyer's story without overwhelming it. Kadushin ably succeeds at creating an addictive listen.."
-(Audio File Magazine)
"Ilyana's work as a narrator was intuitive and nuanced and her preparation was superlative. Not only did bringing Ilyana to the table please the high-profile author of this high-profile series and make me look good for bringing Ilyana in, but created a series of audiobooks that will stand the test of time as best-sellers and as great performance."
-Jacob Bronstein (Random House- Crown Publishing).
"As a Performer, Ilyana has huge emotional range and is in touch with a process to get there.  She is soulful…especially in her eyes, bringing the whole spirit to her work. She is massively passionate and invested in all she does."
-Heidi Marshall (Director and Coach)