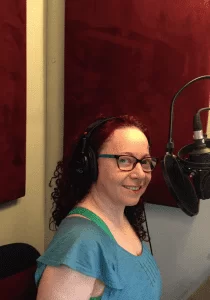 llyana Kadushin is an award winning Voice Over Artist, Narrator, and Producer with over 16 years of experience in the industry. She has her own professional recording studio that has produced original music, sound design, and voice over for Television, Film and New Media.
Ilyana's Voice Performer Resume includes:
Nickelodeon, Discovery, BBC America, Amnesty International, Sesame Street Television, Harper Collins, Scholastic, Random House, Cartoon Network, MTV and The Public Theater.
Numerous national commercials: Motrin, Nutri-Grain, Ziploc, Johnson and Johnson, Verizon and many more. Animation, and video games; like Lord of The Rings. Narrated 70+ audiobooks including Stephenie Meyer's best-selling Twilight Saga Series.
"I have had the pleasure of working with Ilyana, first as the voice for Nick Jr. and subsequently as a voice over artist, performer and singer at Nick Jr., Nickelodeon, WE, and TVLand. While at Nick Jr. she was not just a voice, she embodied the channel with her spirit and became an integral part of our team. Everyone from the writer/producers and designers to the audio engineers love working with Ilyana. She is very talented and brings a unique creativity and warmth to every project. I highly recommend her."
THE HISTORY & IMPACT OF MUTUAL AID IN AMERICA: THEN & NOW
Narrated by Ilyana Kadushin